In the heart of San Francisco stands the magnificent City Hall, a venue that adds grandeur to even the most intimate celebrations. At Bloom Gallery Flowers, we understand that every detail, no matter how small, makes a difference for such a special occasion as your wedding. That's why our florists carefully crafted several exquisite bridal bouquets of various sizes and shapes, to perfectly complement your City Hall wedding.
Our flower shop recognizes that your wedding day is an extraordinary milestone in your life, and we are committed to making the flower ordering process as smooth as possible. Our aim is to ensure that you can focus on the joy and excitement of your big day, without any stress about the wedding bouquet(s).
So, we want to provide you with six simple steps for ordering your dream bridal bouquet. With our guidance, you can navigate through the process effortlessly, leaving you with more time to cherish every moment leading up to your magical City Hall wedding. 
Step 1: Choose your color palette
So many options, so only your imagination is the limit! Every detail, from the wedding dress to the overall mood board of your event, plays a crucial role in creating a wedding bouquet right for you. Take some time to consider the colors that resonate with you and complement your wedding theme. 
If you already have a specific color palette in mind, that's fantastic! Feel free to share it with us when placing your order. Alternatively, if you're still exploring options or feeling uncertain about the colors, we invite you to check out Bloom Gallery Flowers Instagram profile. There, you'll find highlights showcasing our stunning bouquet arrangements, which may help you discover the ideal color combination for your special day.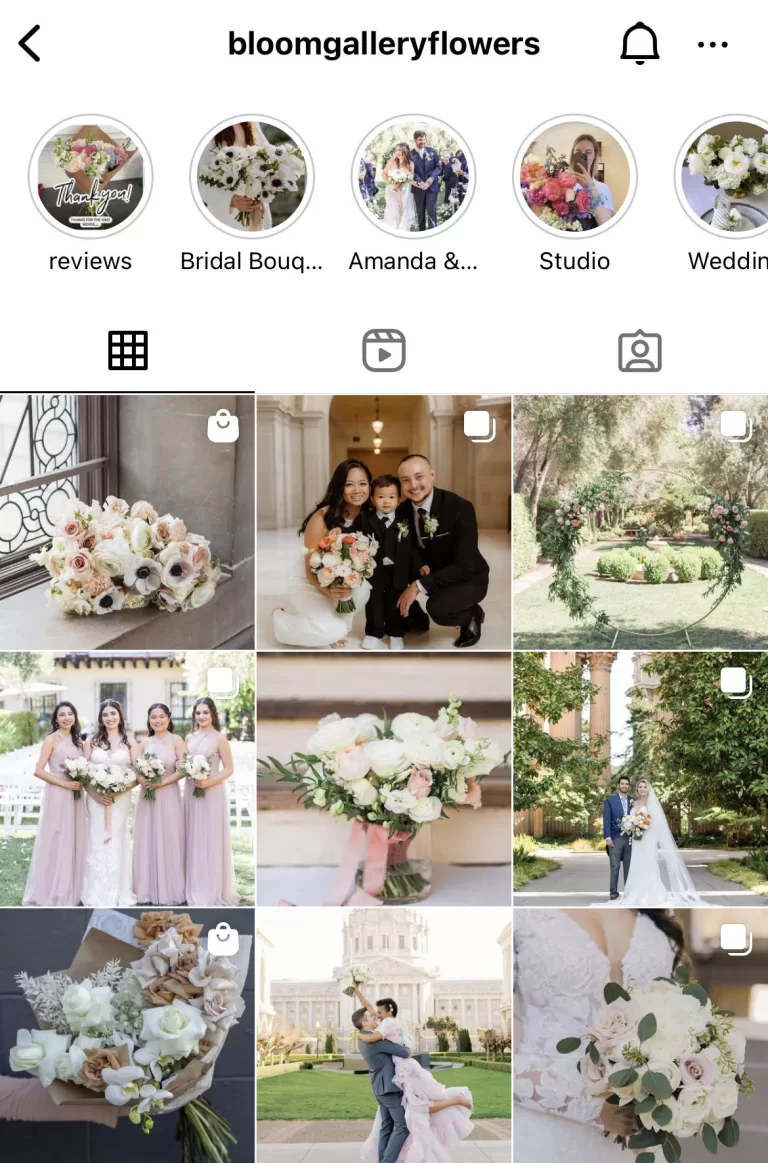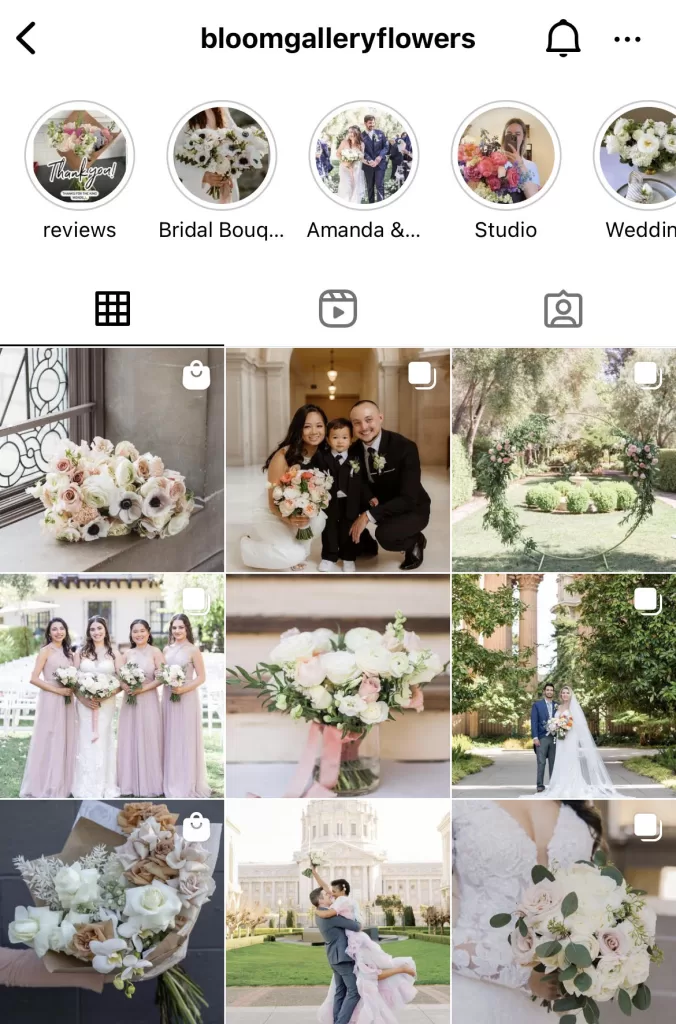 We understand that each wedding is unique, and you may have your own pinboard capturing the essence of your celebration. Please share it with our flower shop team and we will customize your bridal bouquet to align perfectly with your vision.
At Bloom Gallery Flowers, we're passionate about creating exquisite floral arrangements that reflect your love story. Let's embark on this journey together, and we will design a wedding bouquet that will be a true embodiment of your romance and personality. Get ready to walk down the aisle with a bridal bouquet that will forever hold a special place in your heart.
Selecting the right blooms for your bridal bouquet is a delightful process, and our San Francisco florists are thrilled to help you create a truly enchanting arrangement. At Bloom Gallery Flowers, we take pride in offering a wide selection of exquisite flowers, and we are more than happy to customize your order to reflect your unique style and preferences.
However, it's essential to keep in mind that not every flower is suitable for every shape of the wedding bouquet. Our experienced florists are here to guide you through this decision-making process, ensuring that the blooms you choose beautifully complement the bouquet's shape and overall design. For instance, calla lilies are not going to work for hand-tied bouquets, but are wonderful for round bouquets, creating an elegant and classic look.
Moreover, as seasons change, so does the availability of certain flowers. While we strive to source the finest blooms year-round, it's essential to consider seasonality when selecting your bouquet's flowers. For example, delicate peonies, cherished for their luxurious beauty, may not be available during the fall season. However, fear not, as we have other exquisite options that will perfectly suit your autumn wedding.
Our dedicated team is committed to bringing your floral vision to life while ensuring that your bouquet is a harmonious blend of beauty and practicality. Whether you desire a timeless classic or a contemporary masterpiece, we are here to turn your dream wedding bouquet into a tangible reality. 
Step 3: Choose the shape and size
When it comes to selecting the shape of your bridal bouquet, we understand that it's essential to find a design that reflects your unique style and enhances the beauty of your City Hall wedding. That's why we invite you to visit our a "wedding bouquets" page on Bloom Gallery Flowers website and explore our diverse range of bridal bouquet options to suit every preference. For those seeking a timeless and elegant look, our classic round bouquets exude sophistication and romance, perfectly complementing traditional wedding settings. Alternatively, if you envision a contemporary and chic aesthetic, our modern hand-tied arrangements are a stunning choice, effortlessly adding a touch of modernity to your special day. Whatever your taste may be, our bouquet designs are thoughtfully crafted to ensure that each bride finds her perfect match, allowing you to walk down the aisle with a bouquet that embodies your personality and captures the essence of your love story. 
Let us help you discover the shape that speaks to your heart, creating a beautiful and captivating centerpiece for your cherished City Hall wedding.
Start with deciding the best size and shape of your wedding bouquet. Once you are on the page of the product please proceed with the following information:
Choose the color palette: you will see a drop down menu with multiple options. Cannot see what you are searching for? Please choose ""Classical palette" and provide us with details in "Notes";
Choose the delivery or a pick-up date. Please note, that we require 72 hours to create a wonderful wedding bouquet for your big day. Submitting a last minute order? Please reach us directly, and we will try our best to accommodate your request.
Choose delivery time. We can deliver your bridal bouquet a day before if you feel that this is what you would prefer. Want us to deliver your wedding bouquet directly to the City Hall? Of course! We can make it happen.
Leave is Notes. Please provide us with all the details that are important for the order. If you would like to provide us with images, please send them to our email address.
 Add this bouquet to the cart.
Our flower shop takes pride in how wedding bouquet delivery takes place. Your bridal bouquet will be delivered on time and in the vase so that your blooms stay fresh longer. We make a delivery the unique experience that you will remember: no stress, hand-to-hand and always with smile.
After your order is added to the cart, this is time for the last step.
Proceed with the delivery address (or choose a free pick up option) and payment details.
You will receive an order conformation once your order is complete.
Step 6: Lay back and wait for your big day
After completing your order, it's time to sit back and embrace the excitement of your upcoming wedding day. Our professional San Francisco florists put passion in making your City Hall wedding day even more memorable with a breathtaking bridal bouquet. Our seamless ordering process and personalized service aim to cater to your unique preferences and style, ensuring that your bouquet perfectly complements your vision. As you relax and wait for the big day, our flower shop is dedicated to creating an unforgettable wedding bouquet that symbolizes the depth of your love and adds an ethereal touch to your cherished moments. Trust Bloom Gallery Flowers to transform your dreams into reality, making your wedding day truly extraordinary.