Congratulations with your engagement! Now you have a very important time ahead of you – you will be planning your big day. It is exciting and overwhelming in the same time. We know how stressful preparation for a wedding can be. It does not matter how big or small your reception and ceremony will be, it should be perfect. We in Bloom Gallery Flowers are happy to make preparation to your wedding day as smooth and stress-free as possible. At least the floral part of it.
Before we tell you a little bit more how we make it happen, please have a look at some samples of happy couples in our Wedding Portfolio. All of them gave us excellent reviews. They look happy and relaxed – we believe, this is the best proof of our quality and services.
An intimate wedding of Joe and Carry
Joy and Carry chose The Mountain Terrace to exchange their vows and celebrate their special day with family and friends. The only request the bride had was to have calla lilies incorporated into her wedding flowers. All other details were on us. We are extremely proud that the couple trusted us.
After our visit to this charming venue, hidden within the towering redwood trees, we decided to go ahead with a romantic style and create beautiful flower arrangements to match the lilac color of the tablecloth.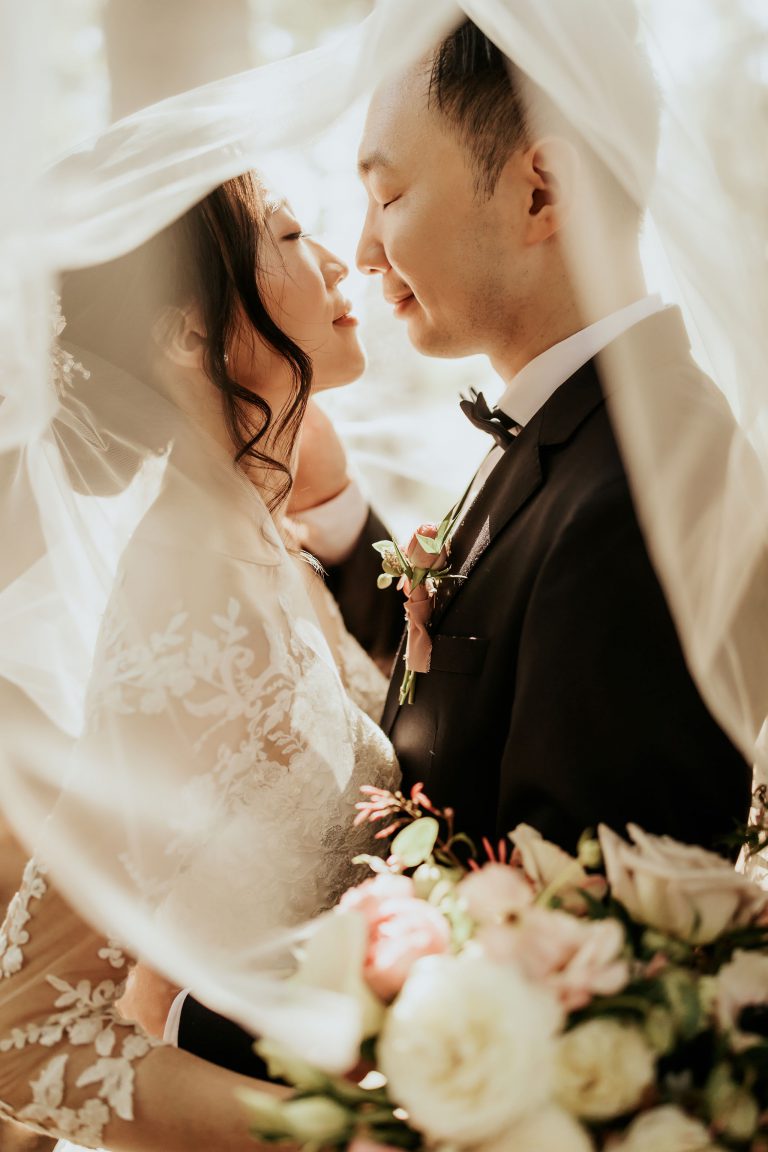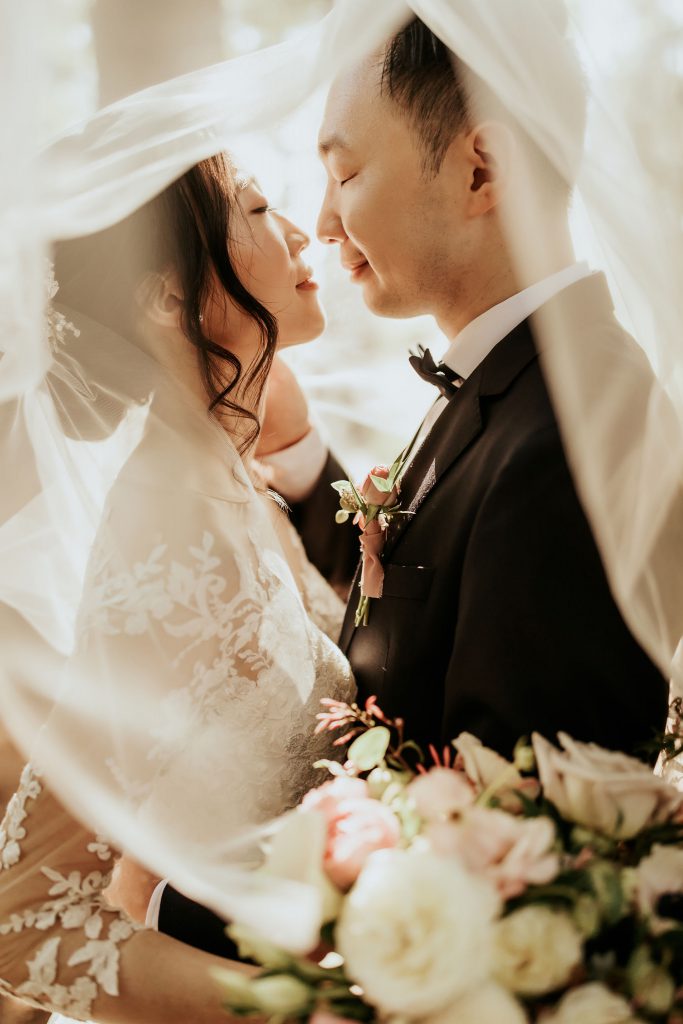 The ceremony took place in the grassy meadow with incredible bay views peeking through a Redwood Grove. The wooden arch was decorated with spray roses, calla lilies, and stock. Calla lilies were displayed on the chairs. These lilies along the aisle completed the set up looking irresistible when the bride walked down the aisle to the wedding arch.
The reception was set up outdoors on the expansive redwood deck so all guests could enjoy breathtaking woodland ambiance. Every guest table was embellished with centerpieces made with white and pink roses. The same gorgeous blooms decorated the welcoming board, sweetheart table, and wedding cake.
Classic wedding of Britney and George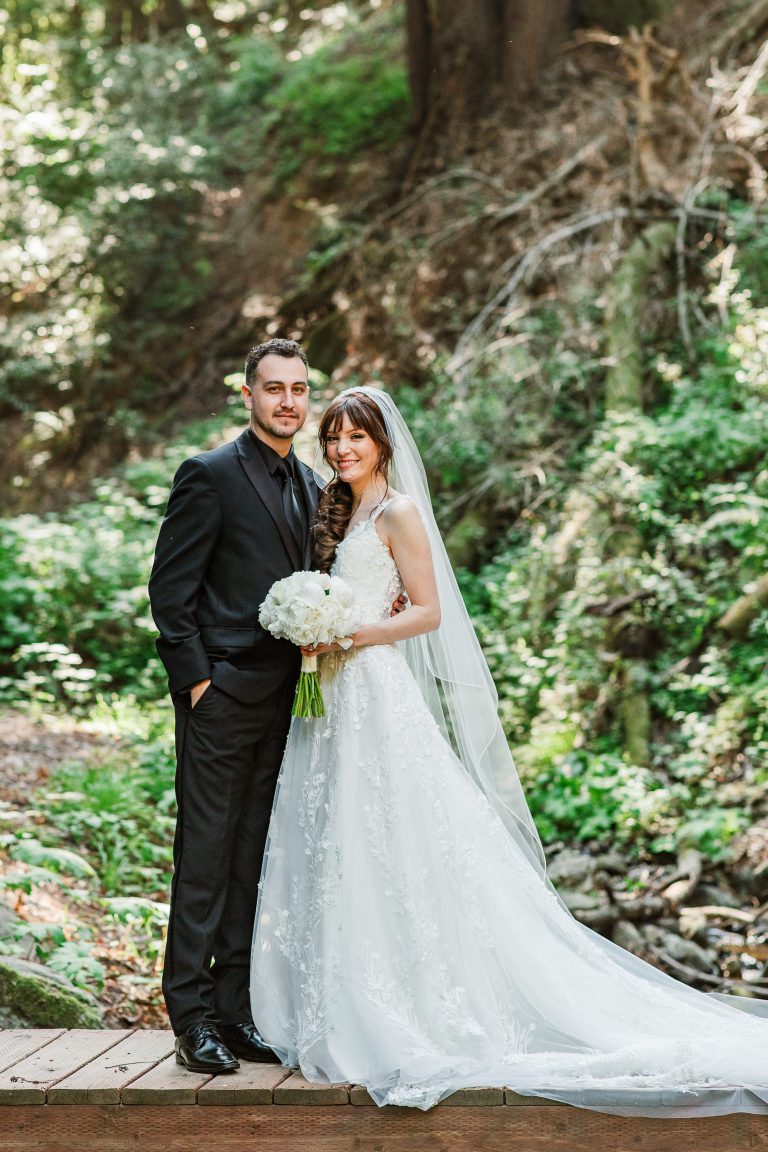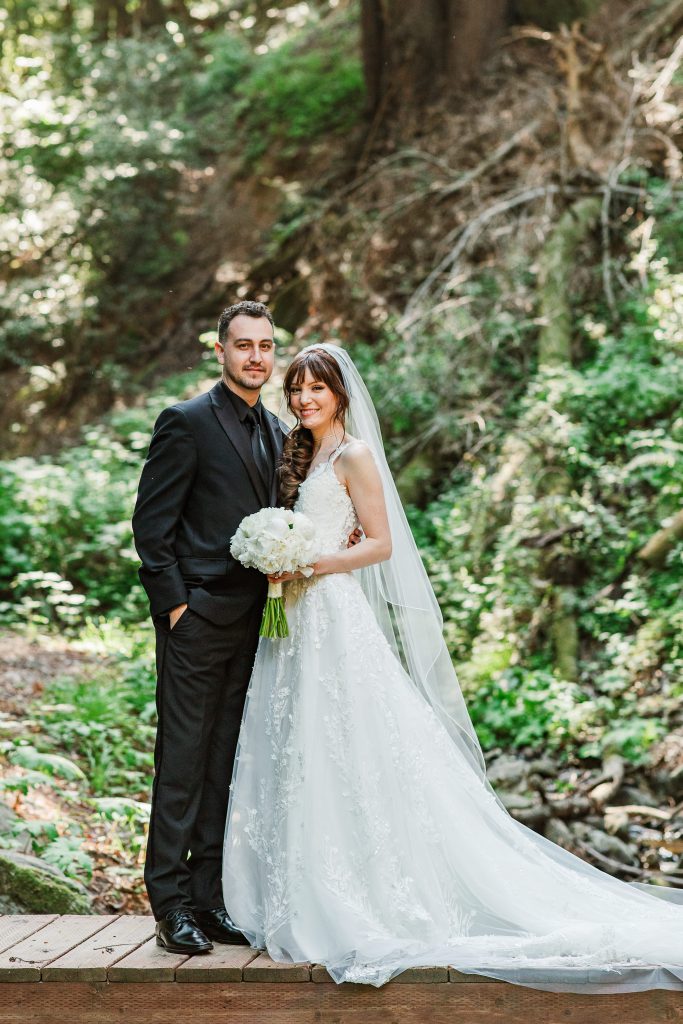 Photos from this beautiful wedding are the first in our Wedding Portfolio page. It was big and gorgeous, and took place in two locations – St George and St Joseph Coptic Orthodox Church and Saratoga Springs Wedding venue.
Britney and George reached out to Bloom Gallery Flowers eight months before their wedding in May 2021. Britney knew exactly what she wanted and she had a strong concept of what she wanted, how her perfect wedding should look like. The couple wanted their wedding to feel formal and classic for the ceremony and rustic and romantic for the reception. We assisted her in bringing her concept to life with discussing all the details and exploring options with her. 
Britney wore an intricately-detailed white lace dress with a flowing veil for her bespoke wedding ceremony. Her look was enhanced by her classical bridal bouquet of half-opened peonies. Her bridesmaids had celestial blue dresses and carried round white hydrangea bouquets. The aisle and the altar were also decorated with white hydrangeas and roses to complete the aesthetic of the wedding.
Britney and George chose Saratoga Springs for their reception. This amazing venue is set in the mountains among towering redwoods and babbling brooks and is perfect for a celebration of a lifelong journey together. Britney wore a wreath of pink and white roses which added a romantic touch to her look. The couple's vows were exchanged before a rustic wooden arch embellished with eucalyptus branches and white roses.
The three tier wedding cake was surrounded by pink and white roses and displayed on a wooden barrel. Eucalyptus garlands and white roses were centered on long wooden tables. Votive white candles and gorgeous white roses on a celestial blue napkins added the perfect rustic touch and finished the table design, which added warm glow to the space.
How do I start planning my wedding?
Every wedding day starts with a dream. Just close your eyes and envision how your perfect wedding should looks like. As a baby girl some of women dreamt of a princess wedding. Did anything change since then? Most probably it did. So it is extremely important to feel what you and your partner need in this particular moment of your life. Determine what's most important for you as a couple and move on to the nest step.
Some people say it is very important to start with the budget. Of course, money are crucial in this event. But we would advise to research first and see what is available out there. Create your approximate guest list to understand the count and start with the venue. Weather of Northern California is a blessing – not too much rain and no snow unless you want to celebrate up in the mountains. But it can be rather hot during summer. Do you prefer a city, mountains or probably an ocean location? Shall your venue be outside or inside? Or probably a mix – there are wonderful locations that are offering both options. Contact us, and we will share details of some of them.
After you confirm or have a short list of venues, it is easier to plan your wedding budget. Determine the date of your big day and start creating the list of vendors. You can ask for venue's recommendations and also look at the special web sites. We highly recommend The Knot. Bloom Gallery Flowers are also presented there as wedding flower shop in San Francisco. We we are proud to be receive an award "The best of weddings 2022". 
How much should I budget for a florist for a wedding?
Professionals in The Knot recommends to start with 8-10% of the total wedding budget dedicated to the florals. Bloom Gallery Flowers offers you several options, including Full-service wedding package and Small Wedding Packages.
Our wedding florist also has a unique offer – a bridal bouquet in various color palettes. Just order it through Bloom Gallery flowers web site the same way you do it for regular flower bouquets. It will be delivered to your door in the requested date and time.
Floral Wedding Design Process
If you can imagine it, we can make it happen! Tell us more about how you envision your perfect wedding, and we will take care of the rest: gorgeous flower arrangements, delivery to the venue, on-site floral installations and breakdown. Out full service wedding package starts from 5000 dollars, including flowers of course, and it worth for middle and large scale weddings with lots of elements.
So what is the process?
Initial Discussion

Reach out to us, share your vision for a dream wedding and tell us more about a venue, number of guests and style of a wedding. After that you will receive a short questionnary from the Bloom Gallery Flowers. Once you fill it in we will move to the next step.

Inspiration and Proposal

We will present you our creative vision of what your wedding floral design might look like. Get inspired by various flower arrangements and choose what you like best.

Reservation

At this stage, we will sign the agreement. After the deposit is made we book your date.

Finalizing details

We will make sure we accommodate all your needs and staying in touch with you until your wedding day. Closer to the date we will meet for a wedding venue walk through.

The Event

This is your day to enjoy. We will come to a wedding venue to set up all the florals, bring your bridal bouquet and will break everything down after an event.

Do you want to know more? Please visit Wedding Portfolio on our bloom.gallery web site. See you there!