After five years, 3000 orders and over 100 great Google reviews of exclusively serving our cherished customers online, we are thrilled to announce the opening of our walk-in flower shop in the vibrant Mission Bay district of San Francisco. This marks a momentous milestone in the evolution of Bloom Gallery Flowers, as we extend our roots into the heart of the community we have come to adore. The decision to establish a physical presence comes from an extensive desire to provide our beloved customers with a more immersive and personalized experience. As the sun sets over the bay, casting a warm glow on our newly opened space, we welcome this exciting new chapter in the journey of our small business. This expansion is not only a next step of our growth but also a testament to the loyalty of our San Francisco florists to you – an incredible customer of our flower shop. We cannot wait to invite you into our contemporary flower studio, where the art of bloom design meets the warmth of genuine human connection. Your presence will make this celebration of the new San Francisco flower shop complete. 
Our Flower Shop: Unique Floral Designs
Our San Francisco florists love working with seasonal flowers and update flower arrangements regularly. Whether you're looking for classic white roses or creative flower arrangement, we offer a wide variety of blooms to suit any occasion. On top of that, our flower shop is boasting its modern European design of flower arrangements, which is especially evident in its signature product – the flower Bloom Box. 
What is a Bloom Box? In simple words, it is a gorgeous flower arrangement in a stylish cardboard box. Unlike traditional blooms, which often require a vase and regular water changes, the Bloom Box has a special floral foam base that keeps the flowers hydrated and looking fresh for much longer. Our signature Bloom Box comes in a variety of sizes and styles to fit any occasion or budget. Inspired by the beauty of nature and the latest collections of the world's most desirable fashion houses, our flower shop Bloom Boxes are contemporary and trendy. It is an exceptional and stylish way to send flowers, therefore it is a popular choice.
And even more – in our new flower shop we are happy to arrange gorgeous blooms for your wedding or other social event. At Bloom Gallery Flowers, we understand that every wedding is unique, which is why we offer a variety of floral decor options, including table centerpieces and arch installations, as well as large wedding flower arrangements. Our commitment to using only the freshest flowers ensures that every arrangement we create is of the highest quality. For couples planning a San Francisco City Hall, we have an exclusive offer – wedding bouquets in different sizes and color palettes. We know that not every couple needs a full-service wedding but still wants their special day to be perfect. Our bridal bouquets are designed with the couple's vision in mind, whether they prefer a traditional white bouquet or a colorful arrangement that reflects their personality and style. We even offer a matching boutonniere set for a full harmonious look.
Perks of the Walk-In Flower Shop
The Bloom Gallery Flowers storefront brings a host of exclusive benefits to our valued customers. Feel free to stop by to enjoy the atmosphere of the contemporary flower studio and choose blooms for a birthday, anniversary, corporate event and any other occasion. 
Urban chic meets ingenious minimalism in every design element of our Mission Bay flower shop. The studio's design exudes sophistication with its calm, grey colored walls, providing a serene canvas for the vibrant blooms to shine. Bathed in an abundance of natural light, the space feels inviting and tranquil, enhancing the beauty of every arrangement. The displays, changed seasonally, embody the studio's commitment to ensuring each visit of our guests is a fresh and captivating experience. With our motto "Urban, Ingenious, Bold," this San Francisco flower shop encapsulates its core philosophy, drawing inspiration from the city's vibrant energy and diverse culture. 
It is a great time to experience professional customer service of our flower shop: choose a unique opportunity to schedule an appointment and engage directly with our head florist. This personal consultation allows you to discuss your specific requests and envision a truly one-of-a-kind wedding arrangement or special event bouquet.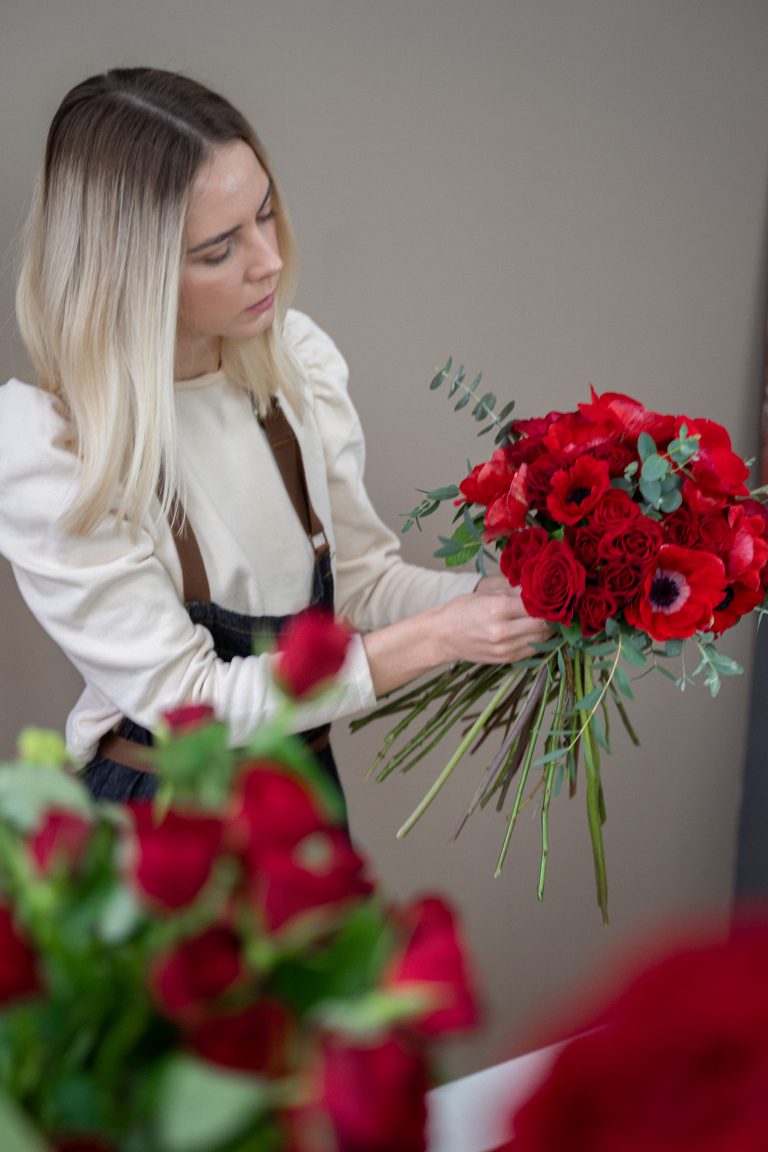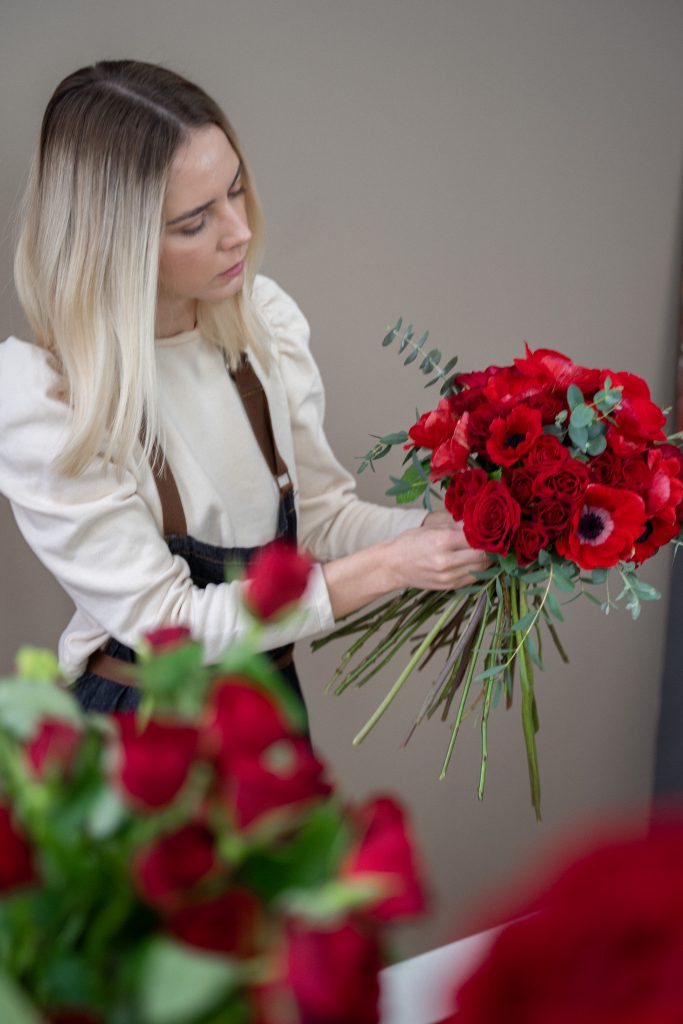 Our doors are open, and we extend our warm hospitality to all who enter. Come and check out an extensive selection of wonderful goods to enhance your gifting experience. From scented candles to carefully curated books, our inventory is expanding daily to cater to your diverse tastes. 
Additionally, for those seeking to immortalize the memory of special occasions, we're delighted to recommend our trusted partner Florals Memories who specializes in preserving flowers. As an extra token of appreciation, they offer a complimentary gift when you place an order with our reference. With these offerings, we aim to enrich your experience and ensure that every visit to our storefront is nothing short of extraordinary.
Why our San Francisco flower shop?
Our flower studio is dedicated to providing a stress-free and memorable experience for every customer, and we can't wait to help you make your next occasion extra special. Our San Francisco Florist believes that the presentation is just as important as the flowers themselves, and we want your gift to make a lasting impression. This is why we pay close attention to how our flowers are "dressed". Most of the flower bouquets come in the craft paper and an additional bag featuring our logo. It is not only stylish, but also a very practical way of packaging. First of all, we make sure that all the flowers arrive to the customer in great condition. San Francisco weather is unpredictable and sometimes we need to add on a layer or two to keep our blooms fresh and safe. Secondly, by seeing the flower shop logo the recipient will not only appreciate the quality, but also have contact details in case of any questions or requests. And at last, unpacking can be so much fun! Do you enjoy opening a beautifully packed gift or a jewelry box as we do? This is such an intriguing and happy moment, and we make sure that every detail is just perfect.
Our flower shop, of course, understands the importance of timely and careful delivery, which is why we always give flowers personally and never leave them on the porch unless requested.
And here comes even more – handwritten cards. We add a free handwritten card to every order. Simply send us a text in any language you prefer, and we will personalize your gift with a heartfelt message that will show your loved ones how much you care.
We strive to make your shopping experience as seamless as possible and are always available to answer any questions or concern through chat, phone, or email and now in person at 1160 4th Street in San Francisco. Our goal is to exceed your expectations, and we're happy to accommodate any special requests or customize orders to meet your specific needs. Whether you need a one-of-a-kind flower arrangement for a corporate event or a stunning bridal bouquet for your wedding day, we've got you covered.