Description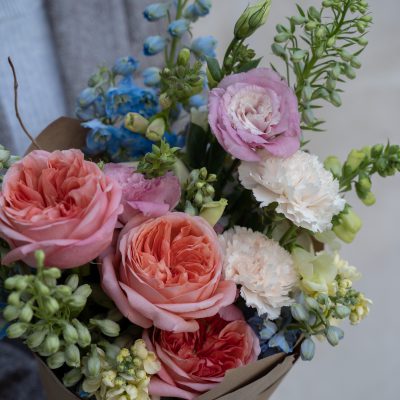 "Make Her Smile" Bouquet is full of gentle hues and enticing scents that your dearest person will surely appreciate. Sensual and tender, colorful and summery, this flower delivery will teleport your mother or stepmother to the magic garden overflowing with wonderful blooms. Gorgeous roses and carnations, delphinium and foliage set up on different levels so you can see every detail of this unique flower creation. We guarantee that your mom. Godmother, Stepmom or other person you call "mom" would be impressed and spend unforgettable moments looking at every piece of this bouquet. This makes it just ideal for the Mother's Day flower delivery.
What else make her smile? It can be multiple things. To start with give her a sincere compliment highlighting her sense of humor, her beautiful eyes, or her intelligence. Gift is always a good idea as well. Depending on your budget, you can go ahead with some cute jewelry piece (she would be impressed!) or simply a box of chocolate or a hand-made candle to show that you care.
We are happy to partner with Blooming Candle Co. – a small local business that specializes in quality home fragrance for your atmosphere. These lovely candles are carefully hand poured and contain premium fragrance and essential oils. We in Bloom Gallery Flowers are excited to offer you three different fragrances and two different sizes: 4 oz and 12 oz. Regardless what scent you choose – Vanilla Orchid and Shea Butter, Jasmine and Cashmere or Rose, Spruce and Pachuli, – we are sure you will be impressed by the quality.